Despite the social distancing guidelines, in a strange way we are more connected than ever. Our sense of community spirit has flourished as people have stepped up to help the vulnerable and support each other during tough times.
Even the Thursday night "clap for carers" ritual has seen more of us talking to our neighbours than ever before.
And in a recent survey by the Office of National Statistics (ONS):
More than half of people in Britain said they felt a sense of belonging to their community
More than two-thirds said they thought people "are doing more to help others since the virus outbreak"
In this blog post, we wanted to highlight some of the positive stories happening in the Bedfordshire area to demonstrate how people and businesses have come together during this crisis.
A national hero from Marston Moretaine
If there's one name that everyone has been talking about over the last month, it's Captain - now Colonel - Tom Moore. Most people will be familiar with the story of the veteran who raised an incredible amount of money for NHS staff by walking 100 laps of his garden in the lead up to his 100th birthday. By midnight on his landmark birthday on April 30th, Captain Tom had raised a total of £32,794,701 from more than 1.5 million supporters.
Captain Tom captured the public's imagination and gave us all something to celebrate in an uncertain time. Other local organisations got involved too, for example Bedford School used their Grand Hall to sort and open the thousands of birthday cards sent by members of the public. And Bedford Hospital have named their new landscaped gardens in his honour.
Community aid groups
People across the county have been setting up mutual aid groups to help people in need during the coronavirus outbreak. They've been coming together to deliver food and medications for vulnerable people and those self-isolating. Even helping out with things like walking the dog.
The Bedford Kindness group on Facebook, for example, has nearly 5000 members. There are similar Facebook support groups set up for Pavenham, Leighton-Linslade, Luton, Silsoe, Houghton Regis and more.
Meanwhile, some people have been taking a different approach to supporting their community and using music and entertainment to lift the spirits of local residents. One example is Kelly Sullivan in Luton who has been singing in her street on Thursday evenings' after the residents clap the carers at 8pm.
The resilience of local retailers
Many shops forced to close their physical presence due to the coronavirus have been rethinking how they reach their customers. Those previously unsure of how the eCommerce market could work for them have been given the drive to get their shop online. And people have been showing a great amount of support for these local businesses. A report by the ONS shows that 21.9% of all UK retail in March was done online - the highest proportion ever recorded.
Similarly, restaurants have adapted by turning themselves into takeaways, and local shops have started doing deliveries and collections. The ability of these local business owners to adapt and continue business as usual - as much as they can - shows just how resilient they are and how willing they are to serve the local community.
What Chamber members have been up to
Many of our Bedfordshire Chamber members have been getting involved in supporting front line staff, members of the public and fellow businesses in the local area.
Justin Richardson, Beds Chamber CEO, says;
"During a time of such crisis and upheaval, it has been incredibly uplifting to see the local community rally together to support each other in the most difficult of circumstances. I've been humbled by the togetherness of our business community reaching out in the effort to do what they can to support the NHS, essential workers and each other."
These are just a few examples:
Willow Tree Gin switched production to much-needed hand sanitiser, making a special delivery to Bedford Council last week.
Community Interest Luton and Venue Central have been providing meals for staff at Luton & Dunstable Hospital.
Design staff at Chiltern Learning Trust have been making over 7,000 visors for front line staff with the help of materials donated by Bartham Group.
The University of Bedfordshire has been streaming digital art classes, producing live radio shows and helping at local food banks.
Pure Business Law has launched a Coronavirus Legal Support hub for start-ups, entrepreneurs and SMEs.
Foxley Kingham Chartered Accountants & Business Advisers have shared a free simple cash flow forecast template on their website to help businesses monitor their cash availability (read this blog post for more details).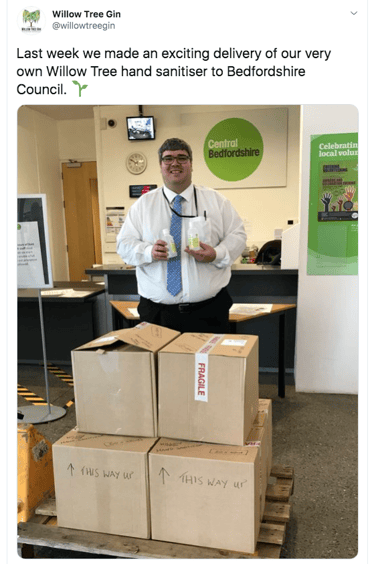 It's been amazing to see so many local people and businesses come together to support each other and the wider community during the coronavirus outbreak. As we start to get back to some sort of normal, we hope to see people continue to work together and support each other.
Do you have any stories you want to share? Is your company doing something to support the local business community? Or have you learned something positive from having to adapt your business during this time? If so, we'd love to hear from you! Get in touch here.