As part of our business support offer, we continue to run the Autumn / winter ERDF business growth workshops.
These fully-funded workshops are for small and medium sized businesses across the South East Midlands that spire to expand and grow. The workshop topics were decided by local business leaders and managers and cover growth challenges and business skills you tell us you want to improve.
The workshops form part of a comprehensive business support programme delivered by Velocity advisers who are on-hand to asset you to develop and deliver your business growth plans.
Our up-coming workshops are: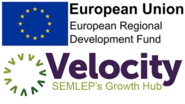 Digital strategy: Website and Search | Learn how to create value using social media | 8th November 9.30am – 13.30pm | Stanwick Hotel, Northamptonshire, NN9 6QY | BOOK NOW
Writing a Marketing Plan | Marketing is the lifeblood of any business, but a common mistake is 'doing' without 'thinking'. | 9th November 9.30am – 13.30pm | Kettering Conference Centre, Northamptonshire, NN15 6PB | BOOK NOW
Digital Strategy: Social Media and Email | Learn the bronze, silver and gold of websites | 10th November 9.30am – 13.30pm | Corby Enterprise Centre, Corby, NN17 5EU | BOOK NOW
Sales: B2B | Discover the difference between B2B and B2C | 16th November 9.30am – 13.30 | MK Conferencing Centre, Milton Keynes, MK6 2TG | BOOK NOW
Pricing | Evaluate the danger of discounts and how pricing affects your brand| 17th November 9.30am -13.30pm | King's House, Bedfordshire, MK42 9AZ | BOOK NOW | 29th November 9.30am – 13.30pm | Towcester Racecourse, Northamptonshire, NN12 6LB | BOOK NOW
Innovations in Marketing | Get the latest thinking in B2B marketing | 22nd November 9.00am – 13.30pm | The University of Northampton Innovation Centre, NN1 1SY | BOOK NOW
Modelling Success for Your Business Masterclass | Refresh your business with new ideas | 27th & 28th November | Northampton Cricket ground, NN1 4PR |BOOK NOW
Velocity business advisers will be on hand to work with you and provide ongoing support and information to help you implement your plan developed at the workshops.
Bookings are on a first-come-first served basis. Please note that we want to keep workshop sizes small so you can get the most out them so unfortunately, only one person per business can attend each workshop.