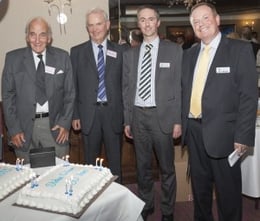 Chamber members, Stoten Gillam Limited recently marked their 50th Anniversary with a celebration at the Old Palace Lodge hotel in Dunstable.
Clients and contacts of the firm came together on the evening of 26 September and enjoyed wine and canapés. A number of guests present had either been clients of the firm since the 1960's, or represented businesses which had been with the firm since that time, and they were each presented with an engraved crystal tumbler.
The Mayor of Dunstable, John Chatterley, himself a former accountant, spoke at the event and congratulated the firm on its achievement. Other speeches came from representatives of the firm and the organisation, Don't Let Dunstable Die.
In excess of 100 guests were present and some had travelled a reasonable distance in order to join in the celebration.
(Photo shows from left to right: Ken Stoten, Phillip Gillam, Chris Trevor and John Wright)