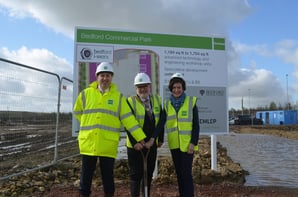 Works officially began on the i-Worx project following the sod-cutting ceremony on the 16th April.
The i-Worx project was developed after Bedford Borough Council's successful bid to the South East Midlands Local Enterprise Partnership (SEMLEP) for £2.5 million of Local Growth Funding.
The project features an advanced Technology and Engineering Workshop Cluster offering twelve modern engineering and workshop spaces which will form part of the new Bedford Commercial Park.
Bedford Commercial Park will be a 70 acre mixed use development with supporting services located conveniently adjacent to the well-connected A421. Following its completion, the Park will be home to approximately 1600 jobs.
Mayor Dave Hodgson said: "This development will host around 1600 jobs, and is another demonstration of the Council's commitment to supporting local economic growth and employment. The i-Worx project will provide modern engineering and workshop spaces for new and expanding engineering businesses. It is set to join the Council's other successful 'i-brand' serviced buildings including i-Lab, i-Kan and i-Create, which currently provide a business base for over 150 businesses."
He continues: "By investing in the growth of existing businesses as well as encouraging new investment and employment, the Council is committed to making the Borough not only a great place to do business but a fantastic place to live."
The i-Worx site is due to be completed in autumn 2018. To find out more about i-Worx or other Bedford Borough Council i-Brand serviced buildings please visit: http://www.bedfordi-lab.com/