Leaders from Peli BioThermal, the global name in temperature controlled packaging, were joined by business officials and distinguished dignitaries at an esteemed presentation ceremony
at the company's UK headquarters to celebrate the company's second success
ive Queen's Award win. The award was granted for exceptional growth of product revenue manufactured and designed in the UK, but primarily sold to customers in Europe, Asia and the Americas.
Peli BioThermal leadership team members Fiona Adams, Director of Worldwide Finance and Paul Terry, Director of Sales EMEA, were initially welcomed to a winners' regal reception at Buckingham Palace where they met His Royal Highness, the Prince of Wales, who personally congratulated them on the company's award success. Following Peli BioThermal's Palace visit an official award presentation took place at the company's UK offices in Leighton Buzzard, Bedfordshire.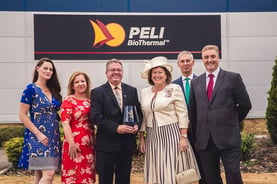 The Peli BioThermal team welcomed Her Majesty the Queen's representative for Bedfordshire, the Lord-Lieutenant Helen Nellis, who conducted the official presentation proceedings.
David Williams, president of Peli BioThermal said: "It is an incredible privilege and honour for the company to receive a second Queen's Award for Enterprise. It is all the more prestigious as this is the second Queen's Award we have received in a row".
"Following our previous award for Innovation, for our pioneering single use shipper Chronos™ Advance, it is another remarkable achievement to again receive royal recognition for International Trade and export expertise",explains Williams."This second successive award acknowledges Peli BioThermal's outstanding overseas sales performance providing the life sciences industry with thermal protection packaging solutions for the safe transportation of pharmaceuticals globally."
The official presentation of the Queen's Award for Enterprise, the UK's most prestigious business awards recognised globally, was officiated by the Lord-Lieutenant, who congratulated the celebrating company on its award win saying: "This is a very significant achievement. It was only last year I was here presenting the award for Innovation and I am so proud of you for achieving the International Trade award so soon after. At Peli BioThermal you can all be really proud of your outstanding achievements in the last few years."
CEO of corporate parent, Pelican Products, Lyndon Faulkner, added: "This is a remarkable achievement to again be the proud recipients of a second Queen's Award and demonstrates Pelican's ongoing dedication to providing our global customers with award-winning products and services."
The judging panel highlighted how the company's "introduction of a reusable and rental product range, offers significant customer return on investment and the ability to obtain and use products at short notice, but without investing large sums of money upfront.
Major markets include Benelux, Central America and the Far East. Overseas sales have grown by 122% over the last three years and 61% of sales is exported. The company wins the Queen's Award for International Trade for Outstanding Short Term Growth in overseas sales over the last three years."
To learn more about the wide range of Peli BioThermal globally-available products, visit http://pelibiothermal.com.
Peli BioThermal is a division of Peli Products, S.L.U., which is the European arm of Pelican Products, Inc., a portfolio company of Behrman Capital, a private equity investment firm based in New York and San Francisco.