A high performance car parts firm which was struggling to get out of first gear due to its slow internet connection has seen business transformed thanks to the introduction of superfast broadband by WarwickNet.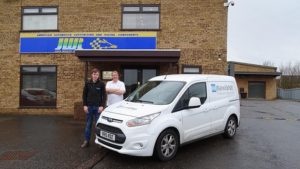 John Woolfe Racing (JWR), which is based in Elm Farm Industrial Estate, Bedford, supplies a range of parts for high performance and custom cars, largely through its online operation and eBay shop.
However, desperate staff were forced to battle painfully slow internet while trying to trade with the continent and USA, hitting both productivity and growth.
After signing up with WarwickNet for an uncontented Premium Internet Access service with 40Mbit/s download and 20Mbit/s upload, JWR CEO Dave Riswick said he has seen his business "transformed".
He said: "Our internet has been 56k speed for the past 20 years and we basically felt left behind by BT as we have always been 'a bridge too far' in terms of location which, in this day and age, is absolutely ludicrous.
"After seeing WarwickNet cabinets being installed we got in touch and the contrast has been like moving from fax machines to the internet, it has immediately transformed our business.
"Our work is all online related – we sell extensively via eBay and, as you can imagine, we have been stuck in first gear all these years. We couldn't use the 'Cloud' because of the slow speeds we had to contend with and the list goes on.
"I came here from California in 1965 and brought with me the 'American way' to run a business. We have always been a very proactive firm and now we have high-speed internet thanks to WarwickNet we can do some catching up and look forward to many more years of growth."
WarwickNet founder Ben King said: "John Woolfe Racing relies heavily on its online arm and was really struggling with a painfully show connection.
"We were happy to help them get up to speed with a broadband service which will enable them to trade promptly and in a way befitting of an international company."
Supplying Fibre to the Cabinet (FTTC) and Fibre to the Premises (FTTP), businesses on Elm Farm Industrial Estate can benefit from broadband download speeds of up to 100Mbit/s, gigabit leased lines with unlimited data transfer allowance and Voice over Internet (VoIP) solutions.
To find out more about connectivity options at Elm Farm Industrial Estate and across Bedfordshire, visit www.warwicknet.com.