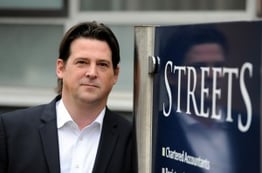 Streets Chartered Accountants, a top 40 UK Accountancy firm, has recruited Gareth Short, a leading sports tax adviser, to spearhead the development of its new dedicated sports tax practice.
Gareth's appointment is a bit of coup for Streets who for sometime have looked after the needs of media and entertainment clients and have been keen to expand into the sports sector.
In his new role with Streets, Gareth will not only seek to develop his portfolio of clients but he will also look to develop the firm's sports offering tailored to the clients' needs. In particular and not least based on his experience, Gareth will be instrumental in providing a holistic approach to looking after client affairs from tax compliance and high end tax advice, to wealth protection and general business advice.
Commenting on Gareth's appointment, Streets Chairman and Managing Partner, Paul Tutin said: "This is truly an exciting venture for us, we have been exceptionally fortunate in attracting Gareth to our firm. We believe there is a gap in the market for the provision of dedicated specialist tax and broad financial advice for sports personalities and with Gareth's leadership we feel we are well placed to fill it.
"Gareth demonstrates true empathy and appreciation for the needs of sports people who often have little time to focus on their personal financial matters. With this approach and the provision of a dedicated part of our practice we are confident that Streets Sport will be a winner."
In his previous senior roles at some of the UK's top 10 accountancy firms where he specialised in dealing with sports clients, Gareth gained significant experience advising and looking after the needs of sports sector clients including premier league footballers, rugby players and golfers.
Gareth along with his new team members will look after clients nationally drawing on his established contacts with sports personalities, their clubs and agents.