A community vineyard run almost entirely by volunteers has won a national award. Warden Abbey Vineyard in Bedfordshire earned the runner-up trophy in the Social Enterprise/Community Project category in this year's Rural Business Awards 2017.
The vineyard is managed by Bedfordshire Rural Communities Charity and run almost entirely by volunteers. The vineyard works with other charities and local schools to provide opportunities for education, therapeutic horticulture, employment, heritage and wildlife projects, as well as opening for tours and producing award-winning wines.
Vineyard Mang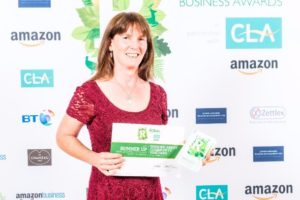 er, Jane Markham, said "Not bad for a small community vineyard! It's a huge honour to have had our achievements recognised at a national level, and a great testament to our volunteers who have worked so hard to develop a range of activities at the vineyard".
Rural Business Awards co-founder Anna Price said: "The Rural Business Awards gives rural enterprises of all sizes the opportunity to showcase their success and the contribution they are making to our thriving rural economy – just the firms that have entered in 2017 have combined turnovers well in excess of £70m. Social enterprises are at the heart of many sectors of rural Britain and we have been truly humbled by the amazing range of fantastic projects that have applied. Warden Abbey Vineyard was a brilliant entry, a great idea and is a strong commercial candidate too."
Bedfordshire Rural Communities Charity's Lisa King attended the awards ceremony, compered by Jules Hudson, presenter of the BBC's Escape to the Country.