Would you know how to react if a colleague were having a panic attack?
What about colleague displaying signs of an eating disorder or depression?Would you know what to say, or would you fear saying the wrong thing?
People with mental health issues can find it notoriously difficult to divulge how they are feeling. Many individuals avoid seeking help for fear of being judged or ostracised. And with outdated stigmas still permeating the issue well into the 21st century, the fear of an outcasted and isolated future is silencing sufferers every day.
Thankfully, this stigma has been recognised and challenged, particularly within the media.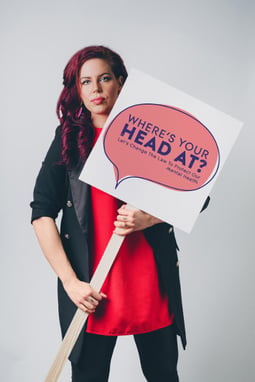 High-profile activist, Natasha Devon, who has cultivated celebrity endorsements and media support on a prolific scale, is in the process of campaigning and lobbying for the government to make it compulsory for workers to have colleagues trained in how to spot the signs of mental distress. Natasha has successfully harnessed her profile and celebrity friendships to launch the 'Where's your head at?' campaign, and with a string of television appearances and political endeavours, she is attracting all the right attention, proving that we are on our way to overcoming the stigmas of mental health.
Mental Health First Aid (MHFA)
Mental health illness costs UK businesses an estimated £34.9 billion every year, and around 15.8 million days of UK sickness absence were caused by mental health issues in 2016.
Mental Health First Aid (MHFA) England is a community interest company established in 2009.
MHFA England's social mission is to increase mental health awareness literacy and reduce the stigma associated with mental ill health.
The mutual goal among campaigners and MHFA instructors is to introduce a parity of esteem, and elevate Mental Health First aid to the same status and importance as physical first aid, with a focus on also creating a culture of openness and wellbeing.
Edu-c8 Mental Health & Wellbeing are a Bedfordshire organisation committed to promote and raise mental health awareness in the workplace. They specialise in Mental Health First Aid training. MHFA is an internationally recognised training course accredited by the Royal Society for Public Health delivered by MHFA Instructors who are registered by MHFA England.
We spoke with Dawn Miller Donkin a MHFA instructor and director of Edu-c8 Mental Health & Wellbeing along with mental health campaigner and activist, Natasha Devon MBE to try and better understand the political and social positioning of the mental health within our society.
Mental health is being discussed a great deal in the media, but what noticeable improvements have you seen in the last few years when it comes to wellbeing in the workplace?
Natasha: I work in education and media, both of which are notoriously progressive environments. For that reason, I think I can sometimes get a false impression of how much stigma there is amongst the general population. I still hear people who work in the business world refer to mental illnesses as though they are a sign of weakness of character and there is still undoubtedly a thread of toxic masculinity running through most corporate industries. The mental health first aid course teaches that we all have mental health, in just the same way as we all have physical health and that mental health issues are treatable and manageable. I think everyone should have at least one person in their corner at work, who understands mental health in these terms.
What would you say to someone suffering in silence and anxious about approaching their employer/boss regarding a mental health issue?
Dawn: Find out what support networks are available through your employers. Many organisations have Employer assistant programmes, where employees can obtain confidential advice, guidance and counselling. If this is not available speak to your Human resources department who will be able to offer support and guidance. Other sources of support may also include ACAS for work-related issues or concerns, the Samaritans, MIND and MHFA England websites all have excellent resources and information. Seek professional support through your G.P. Your local authority website will list services available in your region and provide information on how to access them. Early intervention is essential to aid support and recovery.
What advice would you give to employers themselves in terms of taking care of their own mental wellbeing?
Dawn: It's about getting that home and work-life balance. We all lead very busy, stressful and competitive lives. Take time out for yourself through regular exercise, reduce caffeine intake as it can act as a stimulant, have a balanced diet, live life mindfully, connect with people, set and have goals to look forward to. Overall look after your body and mind. Turn your mobile off, do something you enjoy for you and not feel guilty, even if it is for 10 minutes. Remember a good employer who looks after there workforce will have a workforce that will look after them!
What do you find employers struggle with the most when it comes to mental health in the workplace? Identifying, dealing with, or preventing mental illness?
Dawn: I believe there is still a real stigma around mental health in the workplace.
I have seen this through previous managerial experience, discussions and feedback through delivering the 2-day Adult MHFA course.
There are still gaps in people's knowledge and awareness at line manager level in identifying when someone has a mental health issue, (the employee may not realise themselves they may have Mental Health issues) thus managers not being confident or knowing how to deal with it, other than looking at the person's sickness record and performance rather than taking a holistic approach through workplace adaptions such as reduced responsibilities, reduced hours, change of shift times, regular breaks and creating a culture of openness, wellness and wellbeing.
It is, however, good to hear positive stories where organisations are creating a culture of wellness and satisfaction not only for there customers but recognising the benefits of applying the same sympathetic, empathetic and supportive approach to their workers and providing mental health awareness training throughout the organisation. By having designated Mental Health First Aiders in the workplace (the same as physical first aiders) we can create a culture of openness and wellbeing. I believe that for many employers they simply don't know where to start and where to go.
It is well documented that men with mental health issues are less likely to seek help than women, how can we address this in the workplace?
Natasha: If you talk to the charity CALM, who were specifically created to support men with their mental health, they'll tell you that men are less likely to book an appointment with, for example, a therapist, so the key is to bring the support to them. That's why there have been various drives over the past few years to train the people men are talking to in their day to day lives - like gym staff, bar staff and barbers - in basic mental health first aid. I believe our campaign to bring mental health first aid into workplaces can have a similar impact.
How can we help small businesses with limited finances offer mental health training? should it be government funded?
Natasha: I should state that the law change we are calling for only asks for parity. Very small businesses do not legally have to have any members of staff trained in medical first aid and similarly, there'd be no obligation for mental health first aid. The cost of the course is per delegate and the idea is you have a certain ratio of first aiders to staff - therefore the smaller the business, the lower the cost.
Natasha, after the successful debate in parliament last Thursday, what can we expect from the 'Where's Your Head At?' campaign in the future? What is its next goal?
Natasha: MPs from across parties unanimously voted to discuss making MHFA a mandatory legal requirement in Parliament on 17th January. That's a positive step forward, but we're still a long way from the law change that is required. There is a long road of lobbying ahead - the biggest obstacle will be making this a priority in the era of Brexit! To receive update emails, sign our petition at www.wheresyourheadat.org.
Thank you both so much for your time!
If you would like to enquire about MHFA training in your workplace, please visit Edu-c8's website, or call 0330 333 9244.