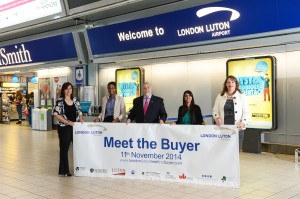 London Luton Airport partners with local business to keep economic growth on the agenda
On Tuesday 11th November London Luton Airport will be holding its third Meet the Buyer event. Aimed at giving local suppliers the opportunity to showcase their services and providing businesses with access to the extensive airport supply chain. The Meet the Buyer event is hosted in conjunction with Bedford Borough Council, Bedfordshire Chamber of Commerce, Central Bedfordshire Council, Federation of Small Businesses, Hertfordshire Chamber of Commerce, Luton Borough Council, St Albans Chamber of Commerce, UK Trade & Investment, the University of Bedfordshire and the Watford & West Herts Chamber of Commerce. Pre-registration is open until Monday 6th October.
Buyers from a range of companies based at and around the Airport have already confirmed attendance, include of:
Harrods Aviation www.harrodsaviation.com
Jewers Specialist Doors www.jewersdoors.co.uk
Landmark Aviation www.landmarkaviation.com
London Luton Airport www.london-luton.co.uk
Rolling Luggage www.rollingluggage.com
Sue Ryder (our Charity Partner 2014/15) www.sueryder.org
The Restaurant Group www.trgplc.com
Elliot Renton, Chief Financial Officer at London Luton Airport Said: "As one of the region's largest employers our aim is to encourage and facilitate business relationships across the Three Counties to continue to positively contribute towards the regional economy, and to promote the respective skills and expertise available in our local area. Meet the Buyer is testament to that. We want local companies to benefit from local opportunities wherever possible and support the growth of Luton. This event will do exactly that, as well as help businesses to build crucial relationships."
Local companies wishing to attend the event can now register their interest by visiting: www.londonlutonmeetthebuyer.com Pre-registration is open until Monday 6th October.