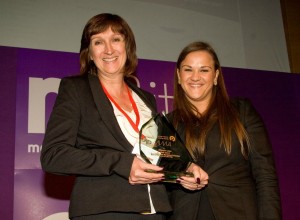 In the face of intense competition from event and leisure venues across the globe, Wyboston Lakes has won the gold award for 'Best Integrated Marketing Campaign' in the prestigious Meetings Industry Marketing Awards (MIMA) 2013.
It is a remarkable triumph for the venue, the UK's largest privately owned single site conference and leisure venue. In winning the highly coveted award, it overcame competition from several other prominent venues, including Aberdeen Exhibition and Conference Centre (silver), the Ricoh Arena (bronze) and JW Marriott Dubai.
The award recognises the marketing campaign created by the company to launch and promote its prestigious new Y Spa, which opened in November 2012 at Wyboston Lakes Hotel. Part of an overall £4 million facility investment, the spa created an important new business dimension for the company, and therefore demanded comprehensive, effective marketing support.
Head of Marketing Louisa Watson said: "Wyboston Lakes has operated traditionally in the B2B conference sector and we faced the challenge of not only moving into other sectors and market places, but also constraints on time and budget. We had a simple back-to-basics approach - understand our consumer and our product and implement a good mix of what we know works…and it certainly did!"
Wyboston Lakes' campaign was called "Indulge in Pleasure". It used a variety of communication tools to maximise the process of engaging with the target audiences at local, regional and national levels. Running for a period of three months from January to March 2013, it employed a variety of online, offline and social media tools. Creative collateral was also produced and included adverts, posters, banners and flyers. The campaign was supported by a new website, visually powerful e-shots, a well-targeted PPC campaign and a dynamic PR launch. Its impact was remarkable, moving the spa from 'start-up' to a successful business within a few weeks.
The MIMA awards took place at on Thursday 24th October 2013 at the Novotel London West. Wyboston Lakes received its gold award from Viki Stapleton of Schroders Investment Management, one of the MIMA judges. Receiving the award, Wyboston Lakes' Senior Marketing Executive Gill Holloway said: "Viki told the audience that our award submission was a long way ahead of a very competitive selection of entries and in the most competitive category. It was a bonus that we then had the opportunity to explain our campaign to leading professionals from across the meetings sector."