As part of the Local Plan examination process, Capital & Regional has set out a vision for a multi-functional town centre, thriving daytime and evening, seven days a week, and has shown that Luton can achieve economic growth in the town centre, adapting to changing 21st century lifestyles without relying on out-of-centre development.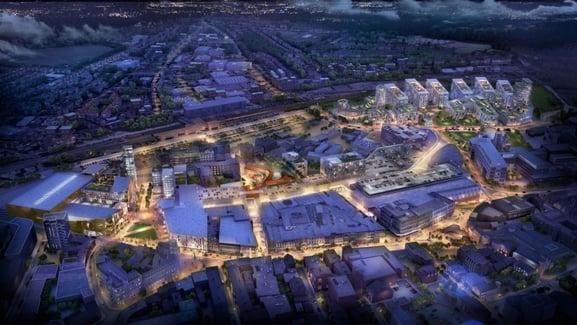 With a new football stadium built on its allocated site at Stockwood Park, or on alternative sites, such as the football club's new training ground at the Brache, a number of complimentary mixed use developments for the town centre would combine new retail, restaurants, homes, various work spaces and urban parkland. Mobility for all town centre users would be improved through new pedestrian routes, links to public transport and additional parking.

Capital & Regional's vision is based on the analysis developed by Luton Borough Council over recent years, is consistent with national policies to protect town centres and would be supported by substantial new investment, facilitated by Capital & Regional.
Capital & Regional's town centre vision is supported by an economic analysis by EY, which sets out the benefits deliverable within the town centre through these proposals. It estimates the GVA (gross value added) to be generated over a 20 year period at £4.3 billion in NPV (net present value) terms. Job creation is estimated at around 7,000.
The vision was submitted on 2 December 2016 to the planning inspector who is examining the draft Luton Local Plan. The inspector has asked detailed questions about the quantity of new retail space needed in Luton and where it should be located; why planned development hasn't been built so far; and whether the plan can be amended to embrace the preference of Luton Town Football Club to build a new stadium at Power Court, rather than at their Stockwood Park site.
Capital & Regional's submission to the inquiry argues that a viable new stadium can be built for Luton Town Football Club at Stockwood Park at the same time as protecting and regenerating core areas of the town centre. It also notes that there are potential alternative locations for a stadium, such as the Brache site chosen by Luton Town FC for its new training ground, that should be considered as part of the local plan process before Power Court is supported as the most appropriate site.
Capital & Regional's multi-functional town centre vision includes:
Development of the Northern Gateway site between the Mall and Luton station with a flexible format that could accommodate retail and catering at ground and Mall levels, an additional anchor store for the town centre and homes above.
A civic, cultural and leisure hub with a new cinema, theatre and library, catering at ground level, refurbishment of the existing hotel and potential for additional offices and homes.
A mixed development at Power Court of retail, catering, homes and offices, all set around a central public park that provides an appropriate setting for St Mary's Church.
Opening up of the River Lea through the Power Court site, making the river an attractive feature of the town centre
As part of a mobility strategy for all town centre users, over 2,200 new parking spaces located at convenient locations throughout the town centre.
New pedestrian routes through the town centre, linking new urban parkland and creating convenient loops from the station for shoppers and those out in town for the evening
Ken Ford, Executive Director at Capital & Regional, comments: "Luton has made good progress in rethinking its town centre in its approved Local Plan and the current advanced draft. We are seeking to move that process along by setting out the investment we would like made and showing how well the approved and emerging local plans can work for Luton's economy and the wellbeing of its residents."
"The town centre can provide the heart and soul of Luton for all of its residents, both those who currently use the town centre regularly and those who might have preferred to travel to London or Milton Keynes. The town centre has capacity to attract those people back, daytime and evening, seven days a week. Power Court on its own can't do that, but it is an important site that can be integrated with the core of the town centre."
"This is also a plan for Luton's football fans, who get the new stadium we all want in a well-planned location where match-day traffic and pedestrian flows can be handled without disrupting other activities and where the exceptionally high development costs of the Power Court site can be avoided. A well-planned stadium is deliverable at Stockwood Park and should remain in the Local Plan."
"This is a real opportunity for all Luton's stakeholders to work together to deliver an uncompromising 21st century town centre," he adds. "This is an affordable plan, consistent with the draft Local Plan, with all the advice accrued by the council in recent years and with national planning policy. As experienced town centre developers, we know it is deliverable."
Capital & Regional expects to provide additional evidence over the course of the examination in response to issues raised.