George Hay Chartered Accountants, based in Letchworth, Biggleswade and Huntingdon, recently helped businesses from across Hertfordshire celebrate success at the biz4Biz Awards 2018.
The glittering awards ceremony, returning for its second year, took place on 02 March at Tewin Bury Farm Hotel and was hosted by well-known journalist and broadcaster, Eamonn Holmes.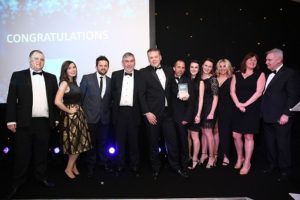 Despite the relentless snow that swathed most of the country, there was still an exceptional turn out on the night, ensuring the evening was just as much of a success as in 2017.
The awards provide nominees not only with an opportunity to showcase their business, but also with a chance to collectively celebrate their success and achievements.
Once again, this year, George Hay sponsored the 'Best Executive Venue or Leisure Facility'; an award which recognises the best of pubs, hotels, spas, gyms, restaurants, golf clubs, health clubs, coffee shops and other general leisure facilities in Hertfordshire.
On the night, Keith Middleton of George Hay and a director on the board for biz4Biz, awarded winners, Needham House Hotel, with their trophy.
Keith said: "Whether it's hosting a networking event, entertaining clients, conducting a meeting or simply finding time to unwind, individuals and businesses rely on the services provided by executive venues and leisure facilities every day.
"The biz4Biz Awards are the perfect opportunity to recognise these businesses and especially those who excel in all areas of the customer experience."
"Hertfordshire is home to some truly astounding businesses and businesspeople and we are proud to be a part of recognising their achievements. Our congratulations go to all this year's winners and finalists!"
For more information on George Hay Chartered Accountants, please visit: www.georgehay.co.uk