A local firm of Chartered Accountants has helped celebrate the successes of the UK's Small Businesses at a prestigious national awards ceremony.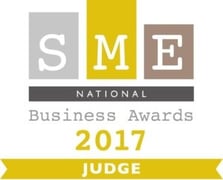 Keith Middleton, based at the Letchworth office of George Hay Chartered Accountants, recently joined the judging panel for the SME National Business Awards 2017.
The awards were presented at a glittering ceremony, beneath the iconic arch of Wembley Stadium, on Friday 1 December 2017.
Amongst the awards up for grabs were Best New Business, Business Innovation, Apprentice of the Year, Entrepreneur of the Year and an Overall Winner, which went to White Cross Vets.
Keith Middleton said: "Whether it is logistical challenges, working out who to employ, dealing with finances and tax, or making sales, running a small business can be an all-consuming challenge.
"That is why I was so keen to join the judging panel and help celebrate the achievements of the UK's very best small businesses.
"Here at George Hay Chartered Accountants, we work with a diverse range of SMEs across a variety of sectors, so we understand the challenges they face, but we also see the real difference they make to their staff, customers, owners and communities.
"I would like to congratulate all the winners on the night, as well as those who were shortlisted. As judges, we faced some very difficult choices."
In addition to its office in Letchworth, George Hay Chartered Accountants also has offices in Biggleswade and Huntingdon.