Streets Chartered Accountants, a leading Top 40 accountancy practice, is pleased to announce the recent acquisition of London and Brighton based entertainment specialist accountancy firm
Mark Carr & Co, which will become part of the Streets Media Group.
The acquisition follows the successful development of Streets dedicated media and entertainment offering over recent years – a move, which from its offices in London and Manchester, the heart of the media and entertainment industry, has seen the firm become a leading and widely acclaimed provider of tax and financial advisory services to all those in the sector, from freelancers and agents to film producers and production houses.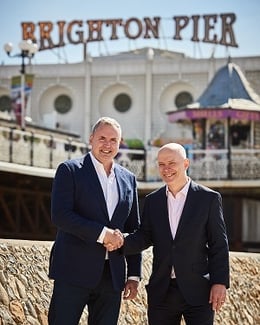 Commenting on the acquisition of Mark Carr & Co, Paul Tutin, Chairman and Managing Partner at Streets Chartered Accountants, said: "We have been very keen to develop our media and entertainment specialism and to build on the opportunities offered by a vibrant and dynamic sector of the economy.
"It has been important to ensure growth to maintain and build on our expertise in the sector. We have also been keen to expand our provision in London and the surrounding area. The opportunity for Mark Carr & Co, with offices in London and Brighton, to become part of our media offering was and is particularly fortuitous.
"Since the decision to focus on developing a practice solely for clients in the entertainment industry, Mark Carr has established Mark Carr & Co as one of the few dedicated sector advisory firms. It is therefore an ideal adjunct to the Streets Media Group which includes Streets Media Chartered Accountants, with its offices in Mayfair, London and close to MediaCity, Manchester.
"The UK's media and entertainment industry continues to play an important part in the economy both at home and abroad. We are pleased to be able to support those who are working and engaged in the sector and to play our part in its continued success. We are now even better placed to do this following the acquisition of Mark Carr & Co."
Mark Carr, along with his team based in London and Brighton will continue to look after their entertainment sector clients, building on their reputation for acting for entertainers. Commenting on the acquisition, its founder and namesake Mark Carr said: "I am absolutely delighted that Mark Carr & Co has become part of the Streets Media Group.
"It is great to be joining colleagues with a shared passion and interest for the sector as well as a true understanding of the needs of those that work within it. We will now be able to offer current clients a more comprehensive service whilst at the same time having the chance for us to expand our sector niche."