Following the launch of the "Right to Rent" Scheme in February 2016 which required checks on new tenants and prohibited private landlords renting their residential properties to certain people based on their immigration status, further legislation known as the "Immigration Act 2016" is due to come into force from December 2016.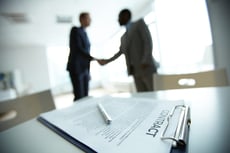 The Immigration Act will:
• Make it easier for private landlords to evict illegal migrant tenants.
Upon receipt of a letter from the Home Office which confirms that the tenant is disqualified from renting in the UK, the landlord will be expected to take action to ensure that the tenants leaves the property.
• Create new criminal offences for rogue landlords and agents who repeatedly fail to carry out right to rent checks or fail to remove illegal migrants.
The new act will not change a landlord or agent's responsibility under the 'Right to Rent' Scheme, but will increase the penalties if the requirements are not complied with. The maximum punishment was a £3,000 fine per tenant, but now it is an unlimited fine or up to five years in prison (or both).
Kellie Marsh, Residential Lettings Manager at Robinson & Hall, Land and Property Professionals comments "These changes are another reason why landlords should use a professional lettings agent to manage their tenancies. We are aware of the ever changing legal requirements and will make sure that all checks are completed as per the guidelines avoiding any unnecessary fines".
For more information about Robinson & Hall's residential lettings offering or for a free no obligation lettings appraisal, please call Kellie on 01234 362937 or email kam@robinsonandhall.co.uk