Nick Willis, Senior Partner at George Hay Chartered Accountants, achieved a significant milestone recently, having celebrated 40 years' service on 15th August.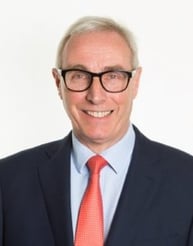 Nick trained and qualified with George Hay Chartered Accountants in Biggleswade after joining on 15 August 1977, became a Partner in 1987 and took on the role of Senior Partner in 2011.
During his time with the firm he has seen both George Hay's Letchworth and Huntingdon offices open and the practice celebrate both its 50th and 75th anniversaries.
Nick, who is still based at the firm's Biggleswade office, specialises in advising small and medium sized corporate enterprises, as well as owner-managed businesses.
"I am delighted to be celebrating my 40th anniversary at George Hay. Over the past four decades I have had the pleasure of witnessing and being a part of the firms' exponential growth, a result of our commitment to moving with the times and the hard work of our friendly and professional team" said Nick.
"I take great pride in the relationships I build with my clients and the advice I give to them and I thoroughly enjoy watching businesses flourish and succeed."
Richard Dilley, Managing Partner at George Hay said "I've had the pleasure of working with Nick for over thirty years. He has built an excellent reputation over the course of his career and is extremely well respected by his clients and all those who work alongside him.
"We would like to congratulate Nick on reaching such a fantastic milestone and we wish him continued happiness at George Hay for years to come."
The Chartered Accountants, with offices in Biggleswade, Huntingdon and Letchworth, have an established team in place with exceptional local knowledge. Tony Newman, Claire Morgan, Julie Couldridge and Gill Hallybone all passed the 30-year milestone earlier in the year whilst Toni Hunter and Sarah Dixon both celebrated 20 years' service in August.
George Hay has been established for over 75 years and provides accountancy, taxation and business advisory services to a wide range of businesses and individuals.