The former High Sheriff of Bedfordshire encouraged graduates from the University of Bedfordshire to grasp every opportunity available.
Vinod Tailor FCIB DL, who recently finished his term of office as High Sheriff of Bedfordshire, was awarded an Honorary Doctor of Business Administration at a graduation ceremony at the University's Putteridge Bury campus, in recognition of services to business and the local community.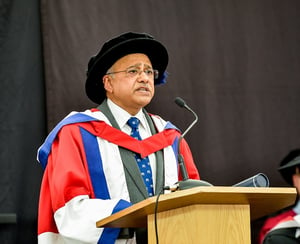 Vinod first came to the UK from Uganda as a refugee in 1972. He worked at Tesco while studying at high school before beginning his working life at NatWest Bank as a messenger, where he quickly worked his way through the ranks. He went on to enjoy a successful career, spanning over 40 years, in the banking and financial sector.
More recently he took on the role of High Sheriff of Bedfordshire, an appointment made by the Queen which dates back to Saxon times. The prestigious role is to act as the Queen's representative in Bedfordshire for all matters relating to the Judiciary and the maintenance of law and order.
Speaking about his time as High Sheriff, Vinod said: "This role taught me a lot about humility and what people have done by putting themselves second and putting others first in serving the community and voluntary sector, which is a great part of the United Kingdom."
He also offered words of advice to the Class of 2018, saying: "This country provides the best opportunities and in your chosen careers, please give your best, and remember that you are part of a bigger community and should be a responsible citizen."
Vinod joined students from the Faculty of Education & Sport, who collected awards in front of excited family and friends.
View all the photos from the ceremony here: flic.kr/s/aHsmoSDxyf