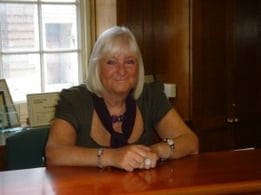 These days she definitely wears the trousers but when Bedfordshire Chamber of Commerce's Chief Executive Cheryl Smart MBE joined Bedfordshire Chamber of Commerce 25 years ago female staff were forbidden from wearing them.
Cheryl joined the Chamber in 1988, the year the pound note ceased to be legal tender and Kylie Minogue topped the charts with 'I should be so lucky'.
'When I joined as Export Supervisor, after a career in industry, the Chamber was still very much an 'old boy's network'' says Cheryl 'Women worked primarily in service roles, quite a contrast to 2013 when women make up a significant percentage of our members and we have our first female Chief Executive in our 136 year history.'
Cheryl certainly bucked the trend during those early years, setting up and leading trade missions to a number of countries, including some not hospitable to women in business.
'I view setting up the trade missions as the highlight of my years with the Chamber' says Cheryl 'It was hard work - I was often on call around the clock - but I made some firm friends among the businesses I accompanied and saw parts of the world I never dreamt I'd see'
Subsequent years saw Cheryl become Commercial Services Manager with responsibility for export, membership, marketing and policy and representation. This breadth of experience meant Cheryl was the ideal choice when the organisation needed an acting chief executive. Cheryl took on the role in 2008 becoming Chief Executive officially in 2010.
Cheryl's work was recognised in 2011 when she was awarded the MBE for services to business. She attended Buckingham Palace with her husband Ken and daughters Donna and Kelly for the investiture presided over by HRH the Prince of Wales.
So what changes has Cheryl seen since she started with the Chamber twenty-five years ago?
'I've seen monumental changes. When I started one of our major activities was our telex and fax service as few businesses had the equipment. All letters were individually typed and we had our own printing press. The internet has changed everything and like any business we've had to adapt. Our current team is far smaller with many old roles now defunct. Job roles are less fixed and everyone has to be prepared to multi-task.'
So what's kept Cheryl at the Chamber?
'If you'd told me then I would still be at the Chamber 25 years on, I wouldn't have believed you' laughs Cheryl 'Why did I stay? I think over the years I developed a real passion and belief in what we were trying to achieve and I've enjoyed the camaraderie and real family feeling that's always been part of the Chamber.'