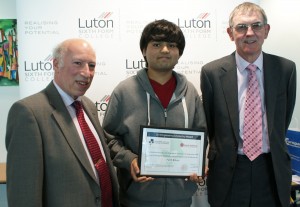 A student from Luton is making a great start in the world of engineering, thanks to the generosity of a local company.
Parth Bihai is the third student to win an annual engineering bursary awarded by Bedfordshire Chamber of Commerce and sponsored by engineering company Veruth Holdings. The £15,000 bursary will support Parth through his studies for a degree in chemical engineering.
Parth, aged 17, is hoping to study chemical engineering at Birmingham University. Born in India, he came to the UK aged 14 and his decision to specialise in engineering was influenced by his childhood experiences living in a developing country. Personal experience of the impact of water and electricity shortages in Mumbai encouraged Parth to undertake research on solutions to alleviate the problems. He has also investigated the potential for using hydrogen fuel, a specialism of Birmingham University.
'I'm very interested in the application of chemical engineering to everyday life' explains Parth ''I'd like to be part of making technical solutions available to the widest possible audience, including those in the developing world.'
Parth, who is doing A levels in Maths, Further Maths, Chemistry and Physics, would like to work in research and feels the bursary will help him towards his goal.
Also competing for the bursary were Akmal Ali, Peter Arkle, Usmaan Farooq, Edward Kingham, Stephen Kingham and Faris Pleho. All the students are applying for engineering courses at university, specialising in areas such as mechanical, aerospace and chemical engineering.
The judging panel - which comprised David Sheridan of Veruth Holdings, Brian Hibbert, Chairman of Bedfordshire Chamber of Commerce and Prof Sir Colin J Humphreys of Cambridge University - said the calibre of students this year was extremely high, making it difficult to choose a winner.
'We had to choose from seven really exciting budding engineers' said David Sheridan 'What made Parth stand out was his enquiring mind. He'd looked at a problem and researched all the possibilities and alternative solutions out there. That's the kind of attitude an engineer needs in the 21st century'
The bursary, which was the brainchild of David Sheridan, is open to any student who is resident in a Luton postcode area and progressing to a UK university. Students had to submit an essay to the judging panel which was followed by an interview where they discussed their aspirations.
David keeps in contact with former winners and takes a keen interest in their progress.
'I'm delighted to be associated with the Chamber in promoting this award' he said 'I was extremely impressed by the candidates this year and wish them all well in their future careers'