Keech Hospice Care, which supports children and adults with life limiting and terminal illnesses, is now recognised as one of the best not-for-profit employers in the UK.
The prestigious awards, which are organised by The Sunday Times, identify the best companies and charities to work for across the UK – based on feedback from their staff. 250,000 staff working for over 1,000 employers completed anonymous surveys giving their opinions about their bosses, their working conditions and their employer's values.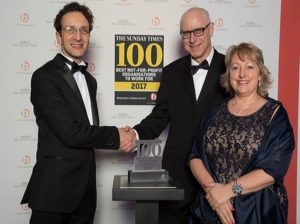 Liz Searle, Chief Executive of Keech Hospice Care, attended the awards ceremony in London on Wednesday 22 February. "I am absolutely delighted that the staff we employ at Keech Hospice Care should rate us so highly," said Liz. "This is the first time that the hospice has been honoured in the Top 100 not-for-profit employers awards and we are proud to represent the hospice sector in this year's results," she said.
"Keech Hospice Care values its amazing staff, and of course our volunteers, we have an outstanding team in every area. They all play a crucial role in making the organisation a success. We are committed to providing excellent care to patients, children and their families and making a difference at the time in their lives when they need it the most"
"The staff survey shows that we have further improved in all areas including personal development, wellbeing and leadership. It's a fantastic position to be in and it's an amazing start to our journey in turning our good organisation into a truly great organisation," said Liz.