The University of Bedfordshire has teamed up with Luton Council to provide higher apprenticeships for some of their employees.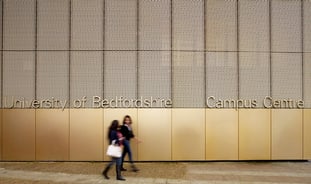 Twelve employees are completing the Data Analyst higher apprenticeship, with a further three taking the Associate Project Manager programme to allow them to develop their skills within their roles at the Council.
Service Manager for Economic Growth & Skills Debbie Poole-Hunt said: "We are delighted that we have a local university who are not only able to deliver higher level apprenticeship training but actively support the Council to reduce the local skills gap."
Data Analyst Apprentice at the Council Israr Siddique said: "Through the apprenticeship I am hoping to gain a better understanding of data analysis and learning new techniques to apply in the work environment. So far I have been impressed by the University's excellent facilities and the positive attitude of the tutors."
The University's Vice Chancellor Bill Rammell said: "We are delighted to be working with Luton Council to provide them with apprenticeships training opportunities. We are very proud that the Council has recognised that our excellent teaching, combined with practice-based learning will give their colleagues the best possible experience, and enable them to apply new skills to their developing roles."
Last year the University welcomed more than 50 colleagues from Tesco who were looking to develop their skills by undertaking an Associate Project Manager apprenticeship through the University's Business School.
The University currently offers the following higher and degree apprenticeships:
• Chartered Manager
• Digital and Technology Solutions Professional
• Associate Project Manager
• Healthcare Assistant Practitioner, Registered Nurse and Nursing Associate
• Data Analyst
Others being added soon include:
• Senior Leader (MBA)
• Operations and Departmental Manager
• Food Industry Technical Professional
• Cyber Security Technical Professional
Find out more about apprenticeships at Bedfordshire, visit www.beds.ac.uk/apprenticeships or call 0800 328 5334 or email: apprenticeships@beds.ac.uk