"It's never too late to become a reservist" says 44 year old Mark Farrant from Bedford. The Police Inspector with Bedfordshire Police joined the Royal Air Force Police (3 Tactical Police Squadron) just under two years ago and hasn't looked back since.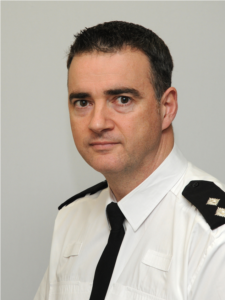 His current role with Bedfordshire Police is the management of the Rural Crime Team across the county but in recent months he's been exploring further afield in the USA and Canada as part of his role as an RAF reservist. In January he spent five days travelling on a C17 Transport Aircraft to provide security as required for crew, cargo and aircraft. He was part of a four person team where the other members were all regulars. In July he will be supporting the security operation for the Royal International Air Tattoo at RAF Fairford and providing support to the Police Flight at RAF Wittering, completing duties with the regular RAF Police personnel.
"The reservist experience is an incredibly rewarding one. It can be a challenge at times, but I'm lucky in that my employer, squadron and family are very flexible and understanding. A proportion of my duties have similarities to my day job as a civilian police officer. However the focus on protective security is an added dimension which supports my 'day job'."
Bedfordshire Police currently employ fourteen reservists and in 2014 received a Silver Award as part of the Armed Forces Covenant Employer Recognition Scheme. The programme celebrates and recognises the support given to Defence personnel by employers that pledge, demonstrate or advocate support to the Armed Forces Community.
Chief Constable Jon Boutcher said: "Volunteers and reservists are a hugely important part of policing and supporting the armed forces and Mark is a shining example of skill sharing across the organisations. In much the same way that volunteers enhance our front line through the Special Constabulary and through watch schemes, it is tremendous that Mark is able to use his skills to help the RAF while also gaining unique experience to bring back to Bedfordshire Police.
I look forward to continuing the great relationship we have with our armed forces through schemes such as these."
So what is the secret to becoming a reservist? Married, with four children and a black Labrador, Corporal Mark Farrant knows all too well that it boils down to forward planning and good communication. "Make sure you have the support and understanding of your family. There will be times that it can cause additional stresses and pressures. Make your decision jointly. Then you're free to enjoy the experience of a lifetime."