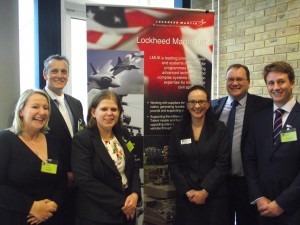 Business in Bedfordshire is on the up! That was the message from Rod Calvert OBE, Chairman of Bedfordshire Chamber of Commerce at the business support organisation's annual Members' Summer Reception.
Speaking at the event, Mr Calvert encouraged members to make the most of opportunities to grow and expand their businesses and urged them not to be discouraged by negative media stories.
There was certainly an optimistic atmosphere at the reception, hosted by Wrest Park Enterprise Centre and sponsored by Lockheed Martin UK. Chamber members were busy finding out why Chamber membership can help businesses become well-connected, meeting friends old and new while enjoying a delicious buffet. A mini-exhibition added to the buzz where members promoted a diverse range of businesses, from equine photography to leisure cruising.
Commenting on the event, Keren Wilkins, Sub Contract Director of sponsor Lockheed Martin and a Board Member for Bedfordshire Chamber of Commerce said:
'Lockheed Martin was delighted to sponsor this event. The Members Summer Reception shows how motivated local businesses are to grow and prosper.'
'There's a great deal to be positive about in our local economy. Lockheed Martin UK is growing and uses local suppliers where possible and the recent Bedfordshire Limited report from Grant Thornton revealed that progress is really strong in Bedfordshire in sectors such as technology, automotive, aviation and logistics.