30 year-old Adam Kent spends his working day analysing, auditing and reporting on a portfolio of nineteen thousand trucks for Mercedes-Benz. But when he's not behind his desk he takes on a second equally responsible role in the Army Reserve.
For the p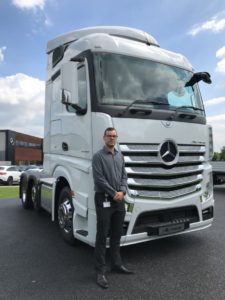 ast seven years Lance Corporal Kent has been a member of 158 Regiment The Royal Logistic Corps, recently joining 201 Transport Squadron based in Bedford to conduct driver training ensuring they're all up-to-date with the equipment they're operating and enjoying the hands on experience of driving the huge MAN trucks on exercises and being a part of operations in both the UK and abroad. During his timewith the Army Reserve he's been mobilised twice. As part of Op Olympics during the London2012 Olympic Games he supported a team responsible for searching vehicles entering the Olympic Park. His second mobilisation was to Afghanistan as part of Op Herrick, where he was working alongside the Army Regulars and providing logistical support to troops at the various operating bases in Helmand Province and also resupplying troops on the ground.
Following in the footsteps of his father, who was a reservist with the Royal Electrical and Mechanical Engineers for thirteen years, Adam recounts the moment when he first decided to join the Army Reserve Transport Regiment (158 Regiment The Royal Logistics Corps). "I was out on my motorbike riding past my local unit and they had a 'now recruiting' sign, I enquired and I have never looked back! My incentive for joining was that I wanted to gain new experiences and to meet new people, both of which I have definitely succeeded in!"
Balancing life as a reservist with work and personal commitments can be tough but Adam acknowledges that the enjoyment soon outweighs the tiredness associated with working all week and then spending weekends in uniform.
"The Reserves is a commitment rather than a hobby and having family support makes it easier. In my experience the pros far outweigh the cons. The experience has made me very open minded and some of my best friends in the reserves are people who ordinarily wouldn't be in my social group. Also the physical challenges have been phenomenal. As part of the Adventure Training activities I've been mountain biking, caving and gorge walking. I've also gained many new qualifications; mini bus and coach driving licences, certificates in first aid and the Driving Conversion Instructor's qualification."
Fortunately, Adam's supported well by his employer Mercedes-Benz Trucks UK in Milton Keynes and able to attend drill nights and training weekends as required. Sam Whittaker, Director Customer Service & Parts says, "We're delighted to support Adam in his reserve work at Mercedes-Benz Trucks UK. We're keen to provide flexible working in order that Reserves and specifically Adam can make this invaluable contribution to our society and safeguard the values that both Mercedes-Benz and UK citizens hold dear."