Accountant, Keith Middleton, reached a significant milestone in his career on 19 August as he celebrated 50 years' service with George Hay Chartered Accountants.
Keith joined George Hay in August 1968 and was a partner in the firm from 1997-2017.
In 2017 he stepped down to take on a consultancy role within the practice.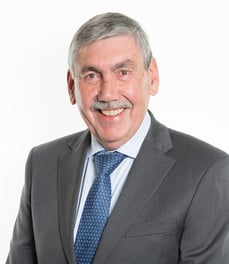 He was instrumental in the establishment of the Letchworth office in 1982, where he is still based now, and where he has built many longstanding client relationships over the years.
He is well-respected locally and has earned a great reputation, providing tailored advice to a wide variety of businesses, especially family owned companies and new start-ups. Keith also specialises in advising businesses in the leisure industry, including hotels and the licenced trade.
"I am delighted to be celebrating my 50th anniversary at George Hay. The past five decades have been extremely enjoyable, and I feel incredibly proud to have played such an active role in the firm's expansion" said Keith.
"I've had the pleasure of working with many individuals over the years who have become friends as well as clients, which is testament to the personal service we provide at George Hay."
"Advising businesses and supporting them with their growth and development has been very rewarding. In several cases, I've worked alongside more than one generation in a family run business and I consider myself to have been very fortunate to be in that position of trust."
Nick Willis, Senior Partner at George Hay said, "In his 50 years with the firm, Keith has been instrumental in the development of the practice and our Letchworth office would not be what it is today without him."
"We would like to thank Keith for all his hard work over the years and congratulate him on such a fantastic achievement."
George Hay – which has offices in Biggleswade, Letchworth and Huntingdon – provides accountancy and taxation services to a wide range of businesses and individuals.
Find out more about George Hay by visiting their website: www.georgehay.co.uk.