Bedfordshire Chamber of Commerce members, Kimm and Miller and Jam Crackers, have been crowned Winners of 2 categories in the East of England Regional heats of the Chamber Business Awards 2017. Now in their 14th year, the Awards are a highlight of the business calendar, recognising the key role that local businesses play in driving the UK economy.
Kimm and Miller, the UK's market leader in the design and manufacture of unique, high-quality gift products were winners of the Small Business of the Year Category and Jam Crackers, a specialist IT support company, secured success in the Excellence in Customer Service Award.
Both will now go forward to represent the East of England region in the national finals, which will take place in London in November.
Rob Kimm, Managing Director of Kimm & Miller (UK) Ltd said: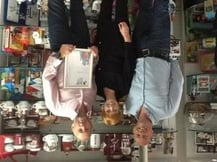 "We're thrilled that Kimm & Miller have been announced East of England Small Business of the Year. This is a real accolade to all of the hard work and dedication of our team. We feel very privileged that the Chamber Business Awards have recognised our recent achievements as a company, particularly in the wake of Britain's currently challenging business climate following Brexit.
Going forwards, we hope to continue building upon our success with the help of our sterling team and, of course, with the support of our fantastic local Bedfordshire Chamber of Commerce. We're now looking forward to celebrating at the Gala Dinner in November and wish all other regional winners the best of luck in the national finals."
Richard and Sabrina Latimer, Joint Managing Directors of Jam Cr

ackers Ltd said:
"We are delighted, shocked and overwhelmed at winning this award. It proves our dedication to Customer Service. I am very proud of the team who have made this possible"
Francis Martin, President of the British Chambers of Commerce said:
"Businesses are the backbone and driving force of the UK economy. Even in the face of uncertain times, they continue to show their resilience and strength – creating opportunities for employment, investment and growth.
"Our judges are always impressed by the high standard of submissions, and the calibre of entries this year was no different. The finalists in the Chamber Business Awards represent the best of this country's entrepreneurial spirit, creativity and hard-work.
"The Chamber Business Awards are the perfect opportunity for us to celebrate our business communities' achievements, to take stock of the outstanding performances of UK businesses over the past year, and to encourage and inspire others to follow in their footsteps."
Justin Richardson, acting Chief Executive at the Bedfordshire Chamber of Commerce said:
"I am delighted to see two Bedfordshire Chamber members announced as East of England regional winners in two keenly contested categories. Congratulations to Kimm and Miller and Jam Crackers, I wish them every success in November's national finals."