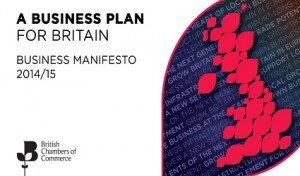 BCC Business Manifesto calls for wide-ranging action from the next UK government to achieve a 'more confident and more enterprising Britain'
The British Chambers of Commerce (BCC) has published its Business Manifesto – 'A Business Plan for Britain'. The Manifesto reflects the expectations of business communities across the UK, and the measures they require from any incoming government in 2015 in order to help Britain fulfil its true economic potential.
The business group, which represents thousands of businesses of all sizes across the UK, has identified seven core themes that must be at the heart of any plan for government, to ensure Britain becomes 'a more confident, more enterprising, and more skilled trading nation'. The BCC manifesto issues a clear call to all political parties to make these priorities for growth a reality.
RETAINING THE BEST UK TALENT AND DEVELOPING THE NEXT GENERATION
Nurturing the business leaders of tomorrow, preparing young people for work and investing in the skills and prospects of those already in work are essential to the UK's competitiveness.
GROWING BRITAIN'S GLOBAL TRADE POTENTIAL
Removing barriers to trade, building international networks and investing in our export skills base will support UK businesses to take on the world
STRENGTHEN BRITAIN'S INFRASTRUCTURE TO REACH A WORLD CLASS STANDARD
A world-class economy needs world-class infrastructure, and businesses need certainty that crucial improvements will actually be delivered.
DRIVE DOWN BUSINESS COSTS AND TAXES
Simplifying the UK tax system and reducing the taxes firms pay even before they generate a profit, will boost businesses competitiveness, investment and jobs.
SUPPORT LONG-TERM BUSINESS INVESTMENT
Promoting access to finance and backing investors in dynamic businesses will support the rebalancing the UK economy so badly needs.
DELIVER A NEW SETTLEMENT FOR BRITAIN IN EUROPE
Making the economic opportunities of the European trading bloc work for business, and ensuring clear safeguards for Britain against unwanted further integration will be critical for our future success.
PLACE BUSINESS AT THE HEART OF LOCAL GROWTH
Giving businesses a greater say in local decision-making will boost the economies of our cities, towns, and counties.