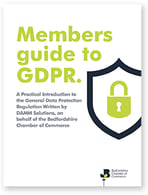 The General Data Protection Regulation is intended to strengthen and unify the privacy of personal data. All companies that process or handle personal data are expected to comply by the 25th May 2018.
In this GDPR guide we've covered everything you'll need know about the General Data Protection Regulation, including:


Who it applies to

How to prepare for its commencement

How to store, process and retain data in a compliant manner
The guide also contains a comprehensive FAQs section, to answer any of your lingering uncertainties.
Fill out the form to receive your copy now.
When you download one of our eBooks or reports, we may occasionally send you content offers or event details that we believe you may also find interesting or helpful. We hope that's a reasonable expectation on our behalf and you can choose to opt out or change your preferences at any time.
For further information, on how we process your data and keep it safe, please read our privacy policy.