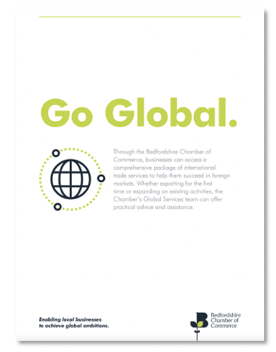 One of our aims as a local Chamber of Commerce is to enable local businesses to achieve their global ambitions.
Export can open the doors to new markets, increased sales and maximise your opportunities for growth. But it an be daunting if it is new to you, or if you are aware of some of the risks involved.
In this eBook, we've pulled together our resources to give you a comprehensive break down of each component of international trade.
This eBook includes:
Export documentation

Export workshops
Letter of Credit service
Chamber foreign exchange
Department for International Trade (DIT)
Business opportunities
Online resources
Fill out the form to receive your copy now.
When you download one of our eBooks or reports, we may occasionally send you content offers or event details that we believe you may also find interesting or helpful. We hope that's a reasonable expectation on our behalf and you can choose to opt out or change your preferences at any time.
For further information, on how we process your data and keep it safe, please read our privacy policy.