The end of the year is always a good time to reflect, take stock, and look forward to the year ahead. As we head closer to the end of 2019, we've been thinking about the biggest trends that have been shaping the small business world this year.
Here we reflect on what we see as 5 of the biggest business trends of 2019.
1. Health and wellbeing
Employee health and wellbeing has been a hot topic in 2019, with businesses putting a greater focus on supporting the physical, mental and emotional needs of their workforce.
This step up in action comes as organisations try to tackle the high incidence of work-related stress, depression and anxiety, which not only results in loss of productivity, but also greatly reduces a business's ability to thrive and innovate.
There has been a significant shift in recent years in how mental health is talked about in the workplace, to the extent that managers are now being trained in how to support employees that suffer with mental illness.
Organisations are also taking steps to improve the overall wellbeing of their employees. Healthy snacks, discounted gym memberships, free fitness or meditation classes, volunteering days, and even naps, are just some of the ways businesses are taking steps to support the wellbeing of their staff. And this trend will certainly continue into 2020.
2. Flexible and remote working
Closely linked to the increased focus on health and wellbeing is the rise of flexible and remote working. Not only have changes in technology and business models opened up more opportunities for flexible and remote working in recent years, but organisations are recognising the benefits to employees from a wellbeing perspective too.
Just twenty years ago, businesses expected employees to be working, in the office, from 9am to 5pm, Monday through Friday. Fast forward to today and in the UK, 54% of employees work flexibly in some way and by next year, half of the workforce is expected to be working remotely.
For organisations looking to attract (and retain) the best talent, offering these working solutions is key. Nearly 75% of millennials believe that a work from home or work remotely policy is important. In fact it's become an expectation that employers will offer some flexibility in how and where people work.
3. Greater personalisation for customers
Over the last few years, personalisation has become an increasingly important component of good customer service. For many businesses, the motivation is to deliver a better experience to their customers and therefore increase loyalty and repeat business as a result. But consumers now expect personalisation, and businesses are having to work harder to delight their customers as a result.
Organisations that focus their personalised messaging around helping consumers, can expect 16% more impact on commercial outcomes than those that don't, according to research by Gartner. They also revealed the type of help consumers are looking for: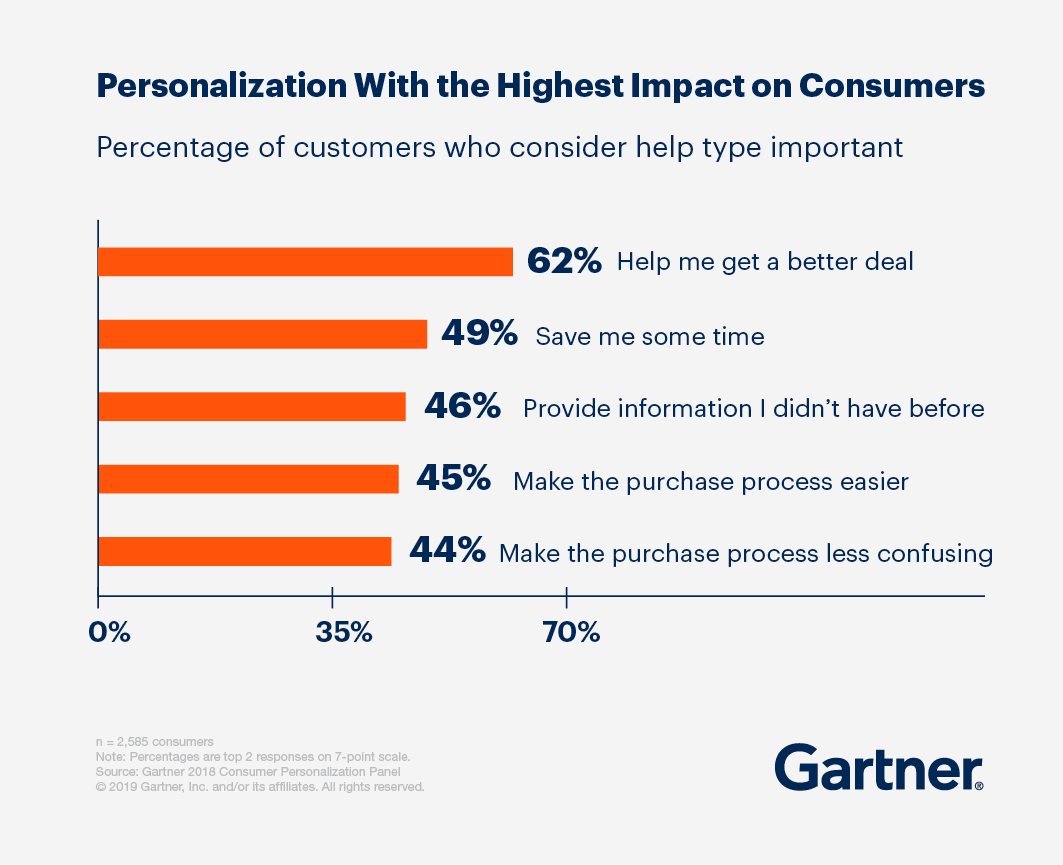 Source: Gartner, Maximise the Impact of Personalization
The increased demand for personalisation is clear. However, given heightened consumer anxiety around how their data is collected and used, businesses need to be careful not to take personalisation too far. The key for businesses as we head into 2020 is to prioritise personalisation for helping consumers, and less for marketing or promotional gain.
4. Genuine relationships
Far from robots taking over the world and replacing jobs, 2019 has revived the importance of real, genuine relationships when doing business. Technology and artificial intelligence (AI) are making it easier to deliver a great customer experience, but it hasn't replaced the importance of the human touch. As any small business owner will know, it's relationships that build trust and strengthen connections with customers.
Looking to 2020 and beyond, AI-enabled machines will become increasingly more present in the workplace - but not to replace workers. Instead, AI will be used to augment the way we work so we can deliver better experiences and value to customers.
5. User reviews
This year has seen user reviews become even more important for consumers when making a purchase. In the online space, making a purchase decision isn't just about price or features anymore, consumers are instead prioritising user reviews. One study revealed that 92% of consumers will hesitate to complete a purchase when there are no reviews available.
It's natural that people will feel more comfortable purchasing your product if they know someone else has bought it, tried - and loved it. If you can get real people to act as advocates for your brand online, you'll build trust and credibility which can lead to increased sales.
Looking ahead to 2020
The rise of health and wellbeing initiatives, along with flexible and remote working has changed the 'traditional' picture of the workplace. The companies who support the needs of their employees are more likely to attract and retain the best talent.
From a customer perspective, personalisation and a genuine human touch have become ever more important components of a great service. Likewise, user reviews are becoming an increasingly valuable 'sales' tool. All these things are ultimately about connection; about customers feeling connected to your company, and connected to each other.
By becoming a member of the Chamber, we can support you as you try out new strategies and tactics, just like these, to grow your business. We can also connect you with other businesses in the local area who are facing similar challenges to you.
You don't have to run your business on your own; we believe that people work better together and by connecting to others and being inspired by what others are doing, you can feel supported and driven to go that extra mile in growing your business. To find out more about what it means to become a member of the Chamber, get in touch.